As the mutual fund industries are growing, Every AMC launches its new schemes to attract investors.
Often, you might have come across this " xxxxx AMC launched its NFO for yyyy Scheme" in the web.
This articles helps you to understand what is NFO and how to invest in it.
In the Mutual fund's industry, When an Asset Management Company launches a new mutual fund scheme in the market shall raise capital from the investors to purchase securities for the mutual fund scheme by offering a New Fund Offer (NFO) as like Initial Public Offering(IPO) in Stocks.
In NFO, the subscription period for any offer is limited. As per SEBI guidelines, a new fund offering shall remain active in the market for a maximum of 2~3 weeks. The AMC offers the subscription of NFO at an offer price. Usually, the offer price is fixed at Rs.10 per unit. But it shall vary to even 1000rs per unit also.
For any investors subscribing to a mutual fund through NFO gains more than investing in a listing price as investors through NFO gets units at an offer price.
How NFO differs from IPO?
Simply put for reading, Stocks from IPO have their price but NFO in mutual funds derive value from its investment in equities, bonds, and other money market instruments.
Where to find the NFO details?
Whenever an AMC launches NFO, it will be listed in the AMFI Website along with scheme information document.
Things Investors to know in NFO
1.Scheme Type
NFOs are Open-ended schemes or Close-ended Schemes. Investors should know about the scheme type which he is investing in.
Open-ended schemes are preferable as they give Liquidity to the investors.
2.Scheme Category
Each of the above categories has sub-categories. Each has its style of investment. Equity mutual funds predominantly invest in Equities and carry their own risk of investment. The Scheme characteristics show the Minimum investment in equity & equity-related securities. The Scheme allocation and its investment objective should be clearly understood by the investors before investing.
Know the Risk-o-meter of the scheme.
3.Risk Tolerance
Risk-o-meter gives the graphical representation of the risk involved in a mutual fund.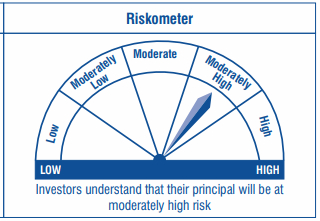 Below graph shows the Fund type and Risk associated with it.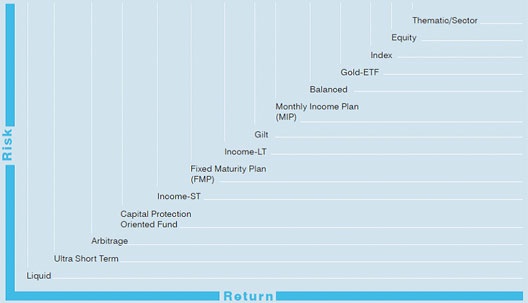 4.Important Dates to remember
a.) New Fund Offer Opening date – Date on which it opens for subscription to the public.
b.) New Fund Offer Closing date – Date on which it closes for subscription to the public.
c.) Scheme Reopening Date – Once the NFO period is over, Scheme will be listed for trading on this date.
5.Exit Loads
There is no Entry loads. But Exit loads will be higher for the mutual funds bought through NFOs. Better to know the percentage against the lockin period mentioned in the Scheme Information Booklet. NFOs will come with lock-in periods ranging from three to five years, So if you redeem before the lockin period , it will affect your returns significantly.
6.Fund Manager
 The past performance of the Fund Manager also welcomes the Funds NFO subscription.
7.Benchmark
Based on which Index, the scheme is going to perform. It gives a fair idea about the risk and returns.
8.Cost of Minimum Investment / Subscription amount
An NFO mutual fund comes with a minimum application amount and minimum additional investment amount. The range shall vary from Rs.500 to 5000.
9. Fund House Name
Fund house check should be there before investing in NFO. Consider AMC with more than 5-10 years of Experience in mutual fund industry. Their past performance gives investor the necessary confidence to invest in their NFOs.
How to invest in NFO?
Investing in NFO also the same as investing in Normal Mutual funds. There are few options as below,
Directly visit the AMC website and login with your credentials. Invest as per the guided instructions provided.

You shall apply via Zerodha Coin – NFO Window.
Directly via Third-party mutual funds like

 

MyCAMS, KarvyOnline

 

also possible.
Conclusion
When it comes to Investing in Mutual funds, always read the scheme related documents carefully, and understand the risks and returns you are undertaking. Investing in NFO has its risks and reward.
Consider Reading other articles related to Mutual funds ,
Happy Investing.!