Index funds are type of an Open ended passive mutual funds where the fund mimics the popular market indices like Nifty, Sensex, Nasdaq, Nifty Bank, Nifty next 50,etc.
The Role of Fund Manager in this fund is to simply invests in all the stocks that make up the index and match its exact weightage of each stock in the index.
Only when the Index holdings changes, the fund manager modify the portfolio to be aligned with the Index.
Simply put, Index funds are basket of securities which mimic the Underlying benchmark.
How does Index funds work?
If the Index funds is based on the benchmark, Let's take Nifty50. Then this fund will have 50 stocks in its portfolio and exactly same as Nifty50 stocks. In the Index not all stocks having same percentage of weightage.
See below Pie chart for the Nifty weightage in Stocks.
The Index funds of Nifty benchmark also follows the same holdings.
Does Index Fund suit you?
If you are new to the market and want to gain broader market exposure, then Index fund suits you.
Investor who predict the returns in the Benchmark shall invest in Index funds without taking a higher risk of buying stocks directly.
If you are looking for a higher return from the equity funds, then Index fund is not an option for you as it's passive fund , it doesn't outperform Index return and you shall choose an Actively managed Equity Funds.
If you are moderately risking taking investor and believes in Index performance, shall prefer Index funds.
If your goal horizon is more than 7 years, then Index funds are recommended. From the Past data, returns are expected at 10-12%.
FACT :   Vanguard 500 Index Fund in 1976  is the First Index fund which tracks S&P500. In India, IDBI launched the First Index fund tracking Nifty50.
How to Select a Index Fund? –
Nifty50

Index chosen for Analysis
Tracking Error – (Performance)
Well, almost most Funds in this category have similar percentage of returns. we should not consider this as big factor. But to compare with peers and matching the benchmark returns, Tracking error shall be considered as one type of Filter. Tracking error is the difference between an Fund's returns and the underlying benchmark indices.
There are 13 funds with Nifty 50 as the benchmark. Below are the list of funds namely,
Aditya Birla Sun Life Index
DSP Nifty 50 Index Fund
Franklin India Index NSE Nifty
HDFC Index Fund Nifty 50 Plan
ICICI Prudential Nifty Index Fund
IDBI Nifty Index
IDFC Nifty
LIC MF Index Nifty
Nippon India Index Nifty
SBI Nifty Index
Tata Index Nifty
Taurus Nifty Index
UTI Nifty Index
Before investing in any index fund, you must look for one with the lowest tracking error.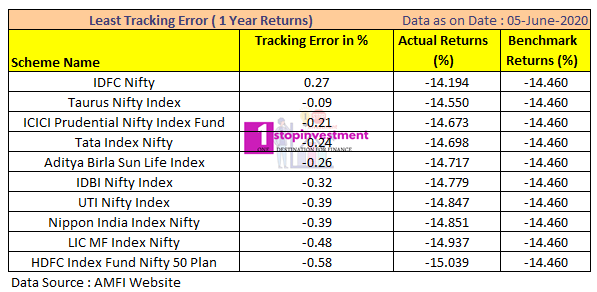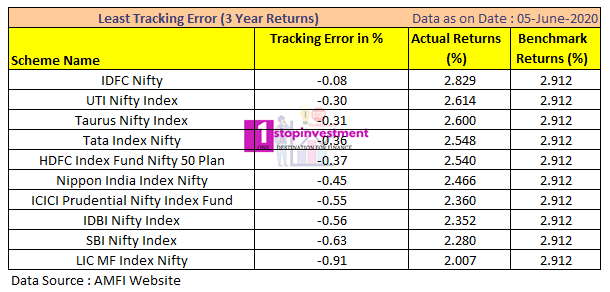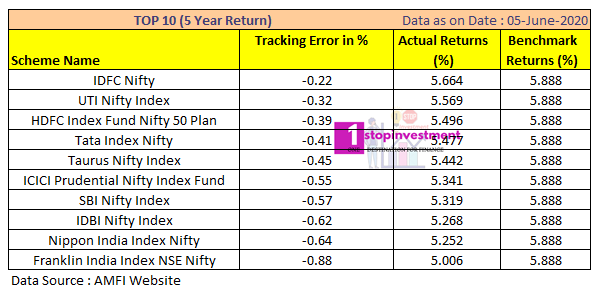 Compare the benchmark in different time period –1Y,3Y,5Y,10Y returns.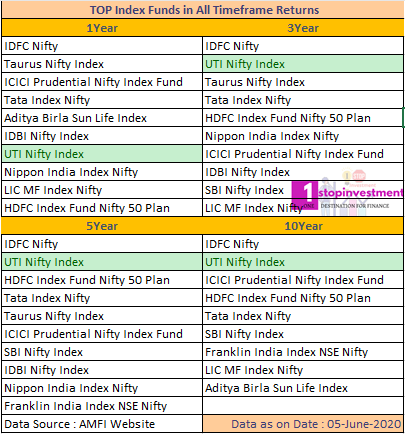 You shall check the performance of the funds from the AMFI website.
Out of 13 Funds, 5 funds where in the Top 10 least tracking error in all 5 timeframes.
HDFC Index Fund Nifty 50 Plan
ICICI Prudential Nifty Index Fund
IDFC Nifty
Tata Index Nifty
UTI Nifty Index
Only the above will be considered for the further analysis.
Expense Ratio
Lower the expense ratio, the overall returns will be good. Index funds itself comes under lower expense ratio category.
As per SEBI Regulation 52, index funds can charge a maximum of 1.50% of daily net assets as expense ratio.
AUM Value
Higher the AUM shows the investor confidence in the funds.
How to invest in Index Funds in Zerodha?
Login to your Coin Console. (You may

signup Zerodha here)

Search for Index funds
Buy-Direct or Direct-SIP options
Invest your amount and Place Order.
Units allocation & Cut-Off Timings for Index Funds
If the order is placed before cutoff time (1pm), units allotted will be based on NAV of the same day.
If you placed after 1pm, units will be allotted based on the next day's NAV.
But, Zerodha COIN has set a blanket cut-off time at 11.30 am for placing mutual fund orders which is much earlier than the stipulated time by SEBI.
How much money pooled in Index Fund ?
Every month Index fund grows higher as you see the below chart. 8824 Crores as of 30-Apr-2020.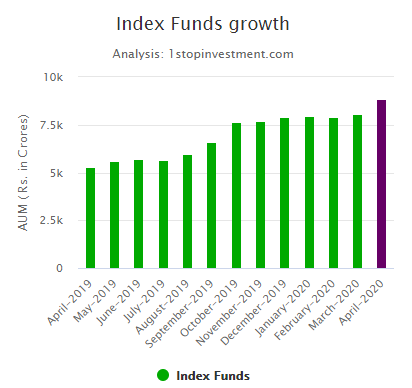 Read more here :  Monthly AUM Inflows. 
Best Nifty Index Funds to Invest in 2020
Considering the Collateral Option, out of 13 funds, I filtered to 5 Funds, based on Tracking error.
Considering the Current AUM value, Expense ratio and Past Performance in all the Time Frames, Either UTI or HDFC index fund will be my choice of Investment. I will invest in UTI Nifty Index Fund (Higher AUM).
I have also written on exchange-traded funds (ETFs) earlier, which are similar to index funds.
Happy Investing.