Liquid funds are a type of Open-ended debt funds where the fund largely invest in debt securities with very short tenure maturity. The Maturity period will be up to 91days or lesser. This fund invests in highly liquid money market instruments and very short term securities such as Treasury Bills (T-bills), Commercial Paper (CP), Certificates Of Deposit (CD) and Collateralized Lending & Borrowing Obligations (CBLO).
The main aim of the fund manager who manages Liquid funds is to invest in good quality credit rating with a very low possibility of default risk.
Benefits of Investing in Liquid Funds
Redemption of Liquid funds
This is one of the advantages of investing in a liquid fund. The redemption requests are processed within a day. Up to Rs.50,000 many AMCs transfers fund to the investors in a few minutes.
Emergency Fund Parking
Those who have Emergency funds, shall keep their funds parked in Liquid funds and receive better post-tax returns than Savings Bank Deposits. Also, due to the Liquidity it offers, Emergency funds shall be invested in Liquid Funds.
STPs
Many SIP investors use liquid funds to command their investments into equity mutual funds using the Systematic Transfer Plan (STP), as they have faith in this method could harvest higher returns.
Exit Loads
There is no penalty on the withdrawal of investments after 7 days of Investment. This is better because Fixed Deposit pre-withdrawal before maturity has an impact on the returns. The exit load for Liquid Funds is charged in the following manner, starting from day 1 of the subscription:
Better Returns
As the liquid funds are invested in Fixed Interest rate debt instruments with short maturity and the interest received will also be fixed for the investors. The returns will be usually around 6~8%. This is better than Fixed deposit post-tax returns.
Liquidity & Lock-In period
There is no lock-in period in Liquid funds because the funds are invested in short term maturities and the investor shall redeem as and when he/she require the money back.
Low-Risk Investment product
Every debt fund carries its own risk. With Maximum Maturity of 91days, the default risk is very minimum because SEBI has tightened norms for Liquid funds.
"Liquid funds shall hold at least 20% of their net assets in liquid assets. For this purpose, liquid assets shall include cash, government securities, T-bills, and repo on government securities," stated a SEBI circular issued in September 2019.
However, the possibility of the issuer of debt security defaulting on the final payment always persists.
In 2017, the Taurus Liquid fund fell by 7.2% in a day due to one of its issuers gets downgraded ratings.
NAV Calculation
The NAV of the Fund is calculated for 365 days. For other debt funds, the NAV is calculated based on business days.
Collateral for Trading account
If you are invested in an approved list of liquid funds by the broker, you shall be eligible for using it as collateral margins.
There will be a haircut of 10%. It means, if you invested 1 Lakh in Liquid fund, 90,000 shall be used as a collateral margin. (Haircut varies time to time)
Below funds are eligible in Zerodha.
Liquid Funds Taxation
Regarding the tax on interest earned, it mainly depends on the holding period by the Investor.
Short Term Capital Gains (STCG) tax is applicable if redeemed before 36months/3years from the date of Investment.

Long Term Capital Gains (LTCG) of 20% is levied with the benefit of Indexation post 3 years of Investment.
How to Select a Liquid Fund?
Historical Returns/Performance
Well, we should not consider this as a big factor. But to compare with peers and beating the benchmark returns, it shall be considered as one type of Filter.
Compare the benchmark in different timeperiod – 1M,6M,1Y,3Y,5Y,10Y returns.
Past 1 Month Returns :
Past 6 Month Returns :
1 Year Returns :
3 Year Returns :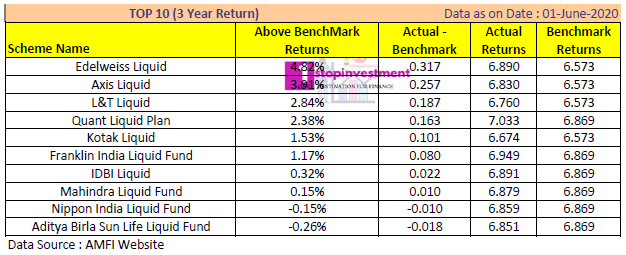 5 Year Returns :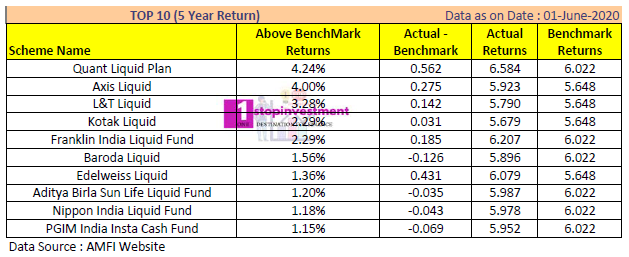 10 Year Returns :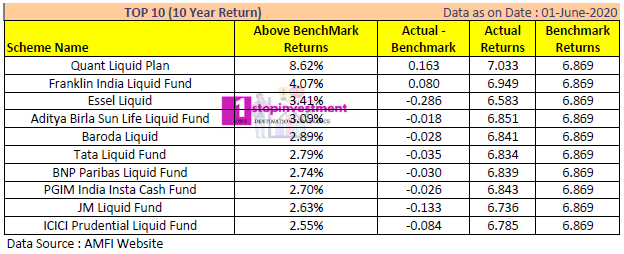 You shall check the performance of the funds on the AMFI website.
Credit Quality
Investors should invest in liquid funds whose investment portfolio consists of debt securities that are highly rated by CRISIL. Crisil Ranking gives you an idea and which gives you the next filter. Higher Credit rating gives Investors the confidence that the funds towards the chances of defaults.
The portfolio holding with AAA rating shall be more than 95%.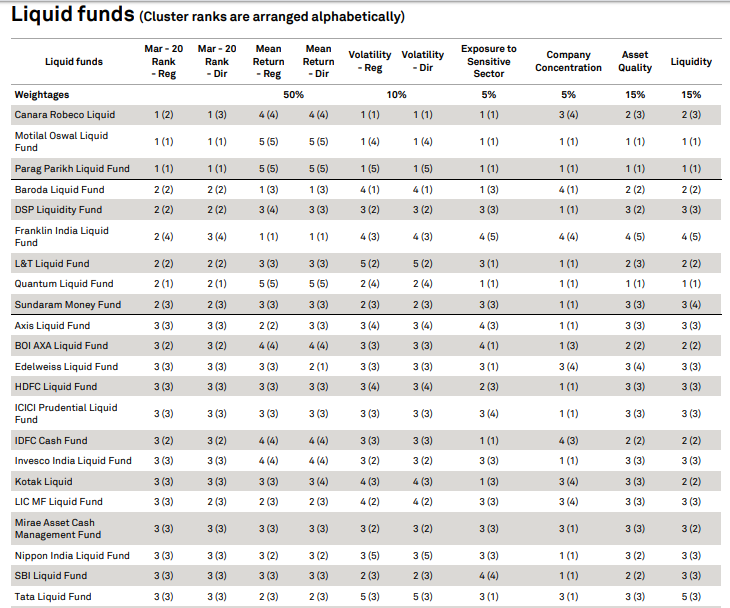 You shall check the rating in this link.
Average Maturity of the Portfolio
Average Maturity is the weighted average of all the current maturities of the debt securities held in the fund. As the Liquid fund maturity should be less than 91 days, the shorter the period, the better for the investors.
Expense Ratio
Lower the expense ratio, the overall returns will be good.
AUM Value
Higher the AUM shows the investor's confidence in the funds.
Are Liquid Funds suitable for you?
How to Invest in Liquid Funds in Zerodha?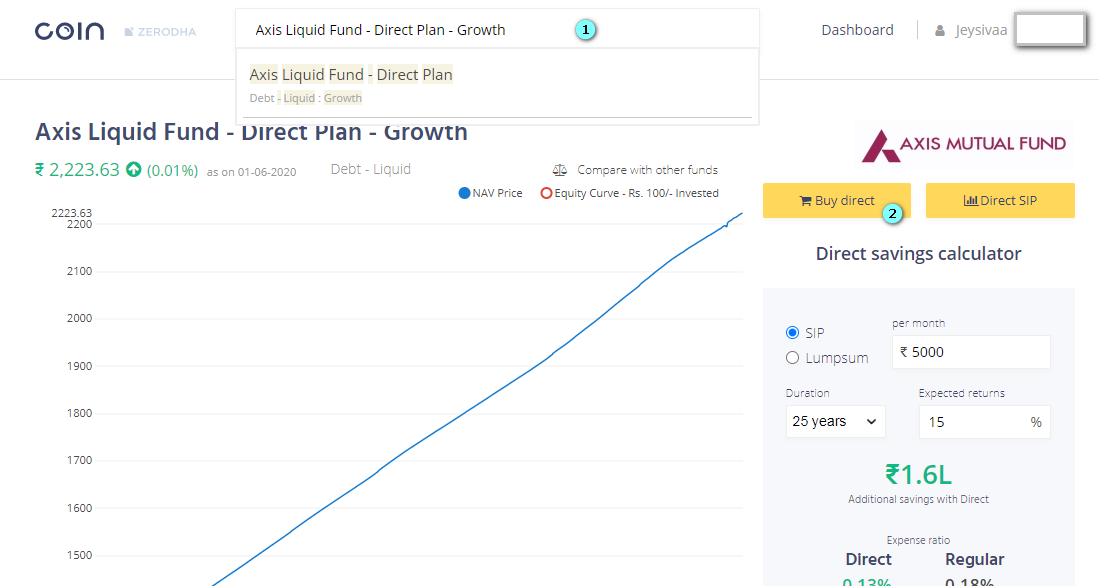 Units allocation & Cut-Off Timings for Liquid Funds
Best Liquid Funds to Invest in 2020
Considering the Collateral Option, out of 39 funds, I filtered to 6 Liquid Funds.
Considering the Current AUM value, Franklin is out from the 6.
Past Performance in all the Time Frames, Either Axis or ASBL will be my choice of Investment. With less expense ratio, I will invest in Axis Liquid Funds.
Summary of Liquid Funds
Happy Investing.