Nifty 50 is benchmark index of an Indian stock market. Please see below graph for the Nifty and it's weightage.
Check out NIFTY 50 Index Companies and its weightage – 2021

Read the previous year Returns Commentary here.
Past Month Returns : May-2021
Nifty50 rose well to hit ATH (All time High) in this month amid raising COVID-19 cases in India and ended the month-May 2021 with a mere loss of of  –

6.50%

 

vs –

0.41%.

(April-2021)

Last year (April Month) has one of the best monthly returns in the last decade. (+14.58%)
This month Monthly Gain Ranks – 81st out of 371 months since July 1990.
Yearly returns stand at the end of this month is

11.45%

.
To give a picture of monthly returns in past, here is the Nifty Monthly Returns Heatmap: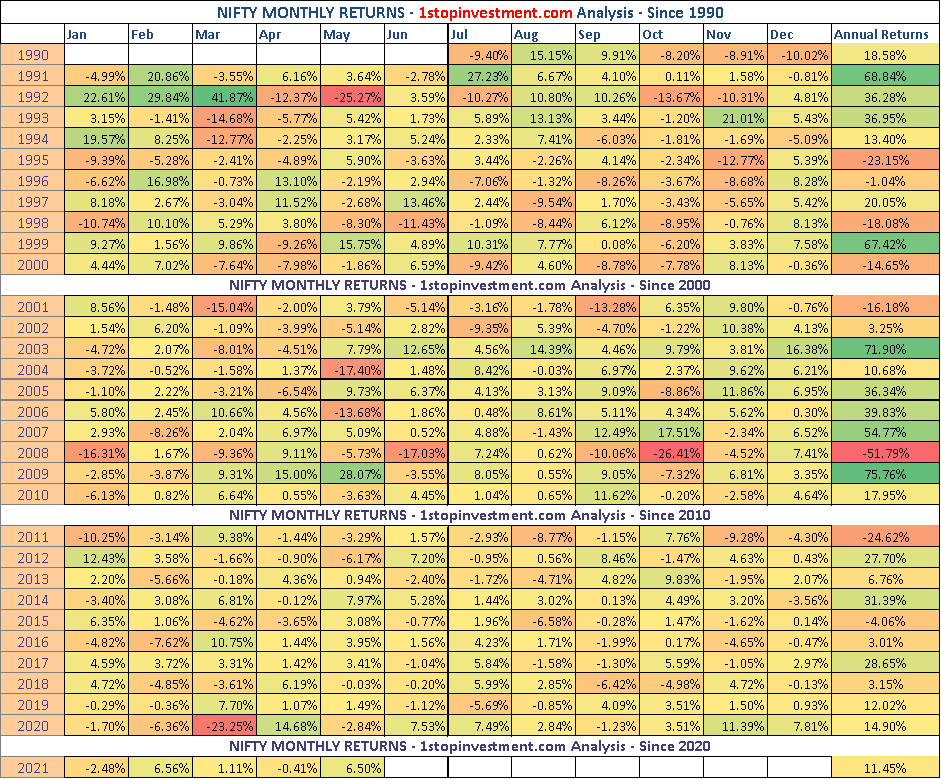 Top Stocks Performance in Nifty :
TOP 10 NIFTY Monthly Gain
TOP 10 NIFTY Monthly Fall
Feel free to share with your friends.
This table will be updated every month to know the Financial & Economical Health of the Indian Market.
If you require the above table for your other Analysis, you shall purchase it for a little fee and for Enquiry, please mail us ⇒ mailto1stopinvestment@gmail.com
Thanks for reading & Contact us if you have any other queries.
You shall download the free Stocks Portfolio Tracker Spreadsheet and Upgrade the sheet if you like at low cost. USE Coupon code : 1stop2020 to avail discount.
We are now on Telegram also! Get our latest views and daily updates on stock markets and many more. Join our Telegram channel here & LIKE OUR FACEBOOK PAGE.