Hello Readers,
Nifty jumps 8.76% ,closes at 8792 with a gain of 702 points.
All the 50 stocks closed in Green today.
All the Sectorial indices also closed in Deep Green today.
Why is there a rally in markets today?
1. Govt likely to ease lockdown in a phased manner
2. $1.3 billion coming to India in passive flows as FPI limit has been increased.
3. India accepts US request to allow drug exports –> Huge Rally seen in Pharma Companies.
4. Indian markets join other global markets in the rally.
5. A sharp recovery in commodity futures also reflected improved sentiments –> Metal Stocks Shines too.
Market Dashboard :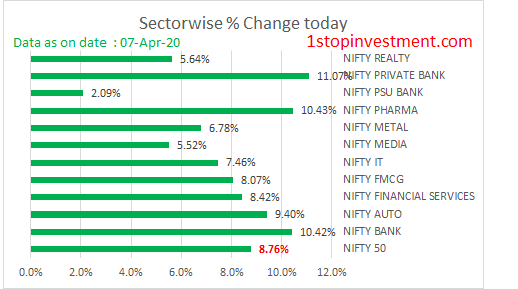 But Volatility is still there. Also Mainly the Vaccine is not found yet.
There will be huge Swing in the market for a while.
All you need is the right strategy to deploy your capital carefully and in a disciplined manner.
Happy Investing !
Read more articles here !