In this period with more ambiguous events happening around yourself due to Covid-19 and buying a health insurance policy is practically unavoidable due to the higher medical cost in India. 
Also, when people do Financial Planning, One thing they do first is that they do take adequate health insurance so that their bank accounts do not get drained when the storm hits the ground.
As per IRDAI guidelines, there are 2 Standard products available specific to coronavirus,
* Insurance Regulatory and Development Authority of India(IRDAI)
Corona Kavach Policy
This Single premium policy is indemnity-based health insurance which covers hospitalization expenses, home care treatment cost, road ambulance charges, doctor fees, ICU charges, Consumables like PPE Kits, medicines, Gloves, masks, and AYUSH treatment expenses.
The Sum insured ranges from Rs 50,000 to 5 Lakhs.
All the General and Standalone Health Insurers are mandated to offer Individual Covid Standard Health Policy "Corona Kavach Policy".
Corona Rakshak Policy
This is a benefit-based Individual policy where the insurer gets 100% of the sum insured if he/she is tested positive for the Covid-19 at a government-recognized center and gets hospitalized for more than 72 hours continuously.

The Sum insured ranges from Rs 50,000 to 2.5 Lakhs.
Kavach vs Rakshak
Both policies have their benefits.
⇒If you already have an Individual or Floater Health insurance (Self or Provided by Employer), that policy might cover the basic expenses towards hospitalization and in that case, you can go with Rakshak policy, It will ease your financial burden. But Rakshak suits if you are the sole income earner in the family as it is an Individual policy. Under Kavach policy, You can cover your Family also.
⇒ If you don't have any health insurance, then you must opt for Corona Kavach Policy.
Here are the factors you should know while buying Covid-19 health insurance.
1.Waiting Period
The waiting period is the time when the claims filed by Insurer will not be covered under the policy. Both COVID health insurance policies come with a waiting period of 15days.
2.Sum Insured or Coverage amount
The Minimum Sum insured amount is Rs. 50,000 and the Maximum limit is 5 Lakhs. The Insurer shall choose to opt within these limits in multiples of 50 thousand.
3.Mode of Premium Payment
It's a single premium policy.
All Healthcare workers as defined in the corona Kavach policy are entitled to a discount of 5% in the premium.
Most policies shall be paid or purchased Online.
4.Policy Tenure
Both policies have 3 options,
3.5 months,
6.5months and
9.5months
(Including waiting period of 15 days)
5.Room rent limit
There is no Room rent / Intensive Care Unit (ICU) / Intensive Cardiac Care Unit (ICCU )limit under the Kavach policy
6.Coverage for Consumables
Other Expenses covered apart from Room rent expenses are

Surgeon, Anesthetist, Medical Practitioner, Consultants, Specialist Fees whether paid directly to the treating doctor/surgeon or the hospital.

Anesthesia, blood, oxygen, operation theatre charges, surgical appliances, ventilator charges, medicines and drugs, costs towards diagnostics, diagnostic imaging modalities, PPE Kit, gloves, mask, and such similar other expenses.

Road Ambulance subject to a maximum of Rs 2000 per hospitalization.

Expenses under the AYUSH system of medicine are also covered.

Pre-Hospitalization medical Expenses incurred for 

15

 days before the date of hospitalization are covered.

Post Hospitalization medical expenses incurred for 

30 days from the date of discharge

 from the hospital are covered.
7.Quarantine Cover
Expenses incurred during the quarantine period spent at home are not covered under this policy.
8.Domiciliary or Home Care treatment
Yes. Maximum up to 14 days per incident. Home care treatment should be based on the advice of a medical practitioner. Daily monitoring charts including records of treatment administered duly signed by the treating doctor should be maintained.
Coverages under Home Treatment :
Diagnostic tests have undergone at home or the diagnostics center
Medicines prescribed in writing Consultation charges of the medical practitioner
Nursing charges related to medical staff
Medical procedures limited to parenteral administration of medicines
Cost of a Pulse oximeter, Oxygen cylinder, and Nebulizer
9.Cooling off period
If you already had Covid, the cooling-off period can be as long as 6 months. Make sure that you provide your health record details correctly. Don't hide anything and later if they are found during verification, they will reject the policy.
10.Age Limit
The minimum entry age is 18 years and the maximum entry age is 65 years.
Dependent Child shall be covered from Day 1 to 25years.
11.Pre-existing disease
Any claim relating to Covid 19 if it has been diagnosed before the policy start date will not be admissible.
12.Hospital Daily Cash – Optional Cover
The Insurance Company will pay 0.5% of the sum insured per day for every 24 hours of continuous hospitalization for treatment of Covid following an admissible hospitalization claim under the Kavach policy.
This benefit shall be a payable maximum of up to 15 days during a policy period in respect of every insured person.
13.Cashless Hospitalization Claim
This is one important criterion to check from the Insurer side whether the Insurance companies that offer the Cashless option should have tie-ups with Covid-19 treatment-equipped hospitals. This comes in handy during an adverse situation.
To avail this benefit, inform the insurance company from the TPA desk from the Hospital and after verified by the company, they will settle the medical bill for the sum insured.
14.Tax Benefits
The policyholder can avail tax benefits in the premium paid for this policy under Section 80D of the Income Tax Act, 1961.
15.Exclusions
The Insurance company may reject the insurance claim if any of the following circumstances met, If
the hospitalization is not recommended by a qualified doctor
the insured is suffering from any illness other than the coronavirus
any claim is made during the waiting period or before the policy was issued
you have visited a foreign land recently
the claim is filed by the insurer outside India
the test result for coronavirus is negative
the medical reports are not issued by any Government Authorised Centre
Health Insurance Companies
Corona Kavach Policy is being offered by all 30 general and standalone health insurers.
Insurers are categorized into four different categories according to the Gross Premium Written by them.
Public Sector General Insurers
Large Private Sector General Insurers
Other Private Sector Insurers
Standalone Health Insurers
The names of 30 Insurers are as below along with their categories and Plans:
Claim Settlement ratio & Solvency ratio
As part of IRDAI Regulations, Analyze the claims data of Insurers before purchasing health insurance.
Solvency Ratio
It measures the extent to which assets cover expected future payments (i. e., claims).
IRDAI requires insurers to maintain a solvency minimum of 1.5 at all times.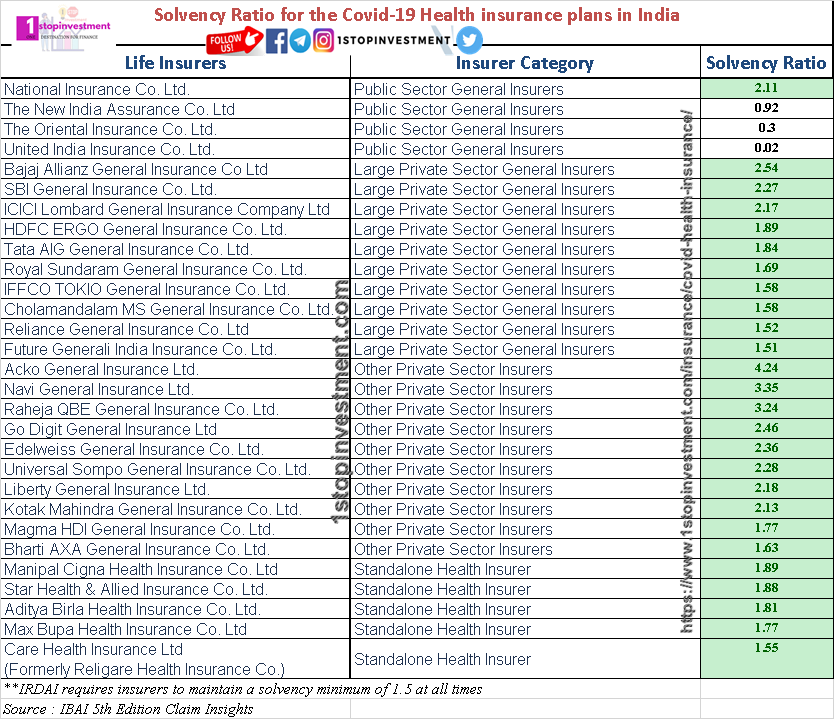 Claims Settlement Ratio
The number of claims settled during the year from the total claims available for processing.
The higher the claims settlement ratio, the better is an insurance company in terms of the measured ratio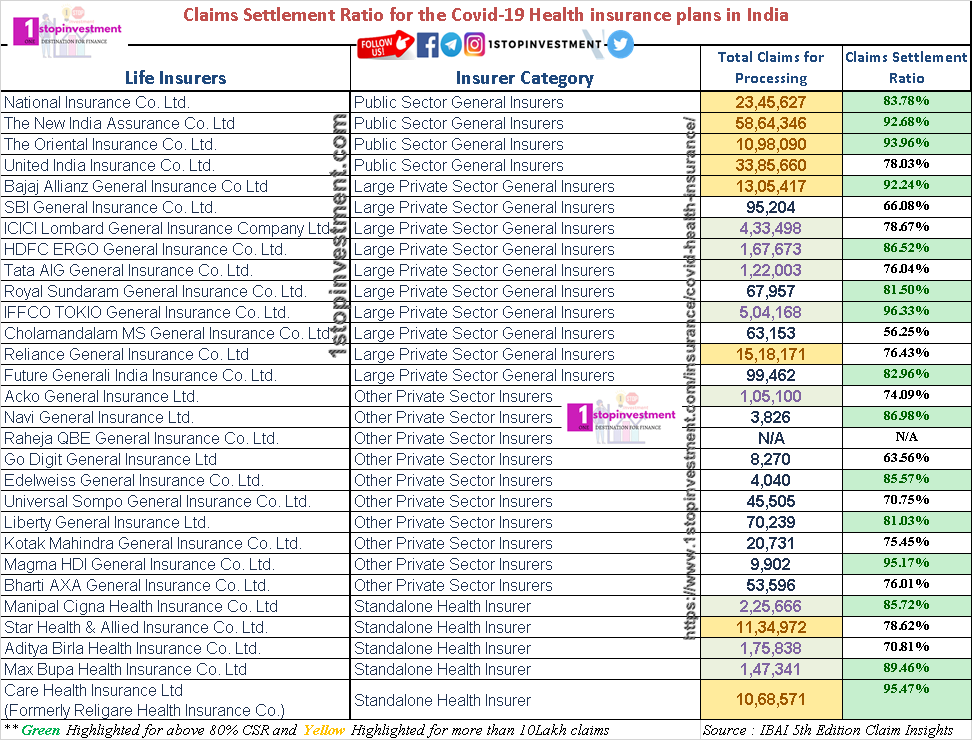 (Disclaimer – 1stopinvestment.com does not endorse any products or insurer, But we want to convery the importance of Health Insurance. Consult with your financial advisor before undertaking any investment products )
BOTTOM LINE :
Considering the above factors, you will be able to choose a Health Insurance plans. Don't confuse too much and the above data will help you to choose the best Covid health insurance plans.
Be careful with the Insurance agents and Always aware of the clauses written in the Policy.
If you have any Queries, Please write to us here ♥ mailto1stopinvestment@gmail.com.
Thanks for reading, Stay Safe!
Share with your friends if you care!
Happy Investing!
Also, Read our Term Insurance – Complete guide