Nifty 50 is benchmark index of an Indian stock market. Please see below graph for the Nifty and it's weightage.
Check out NIFTY 50 Index Companies and its weightage – 2021  & Sensex 30 Companies and its Index weightage – 2021

Read the previous year Returns Commentary here.
Past Returns : Year-2021
In this year, Nifty50 rose well to hit ATH (All time High- 18604.95) in the month of October amid raising COVID-19 cases in India.
Last year (July Month) has one of the best monthly returns in the this year. (+8.69%)
This Year Gain Ranks – 13th out of 32 years since 1990.
Yearly returns stand at the end of the December month is

24.12%

.
To give a picture of monthly returns in past, here is the Nifty Monthly Returns Heatmap: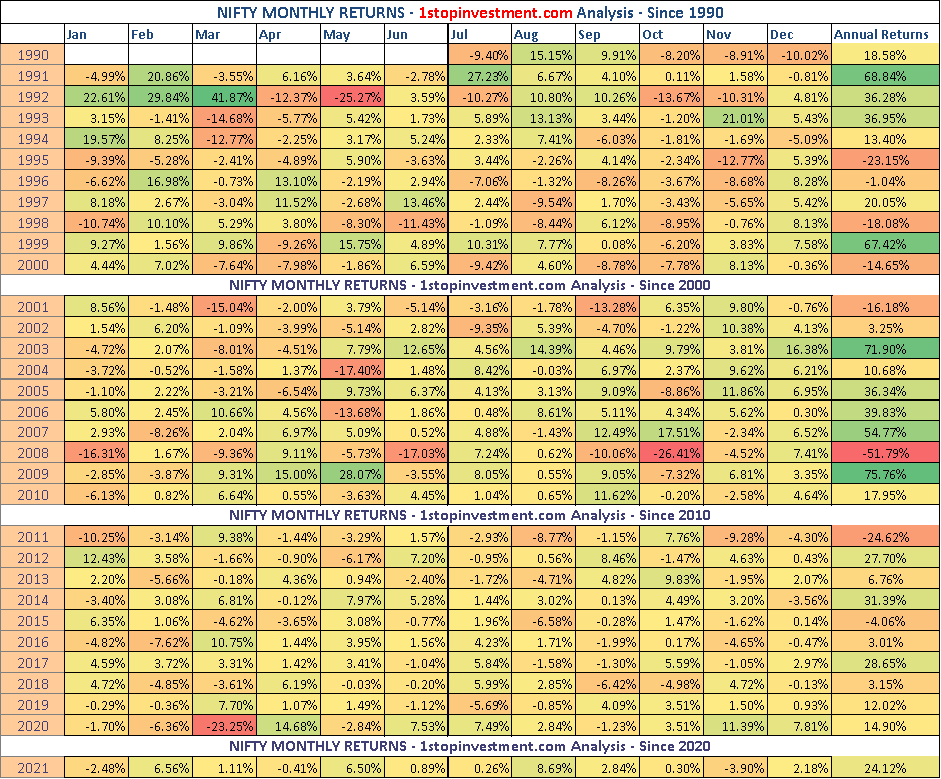 See the Current year drawdown which is much lesser to the previous year.
For the comparision between Nifty and Crude for the Past 30 year, Check out the below Graph.
TOP 10 NIFTY Monthly Gain
TOP 10 NIFTY Monthly Fall
Feel free to share with your friends.
This table will be updated every month to know the Financial & Economical Health of the Indian Market.
If you require the above table for your other Analysis, you shall purchase it for a little fee and for Enquiry, please mail us ⇒ mailto1stopinvestment@gmail.com
Thanks for reading & Contact us if you have any other queries.
You shall download the Stock market related Excel Templates here and Request for specific sheets at low cost.
We are now on Telegram also! Get our latest views and daily updates on stock markets and many more. Join our Telegram channel here & LIKE OUR FACEBOOK PAGE.