Antony Waste Handling Cell Limited IPO - Details
The Company has decided to withdraw the Issue, due to the prevailing market conditions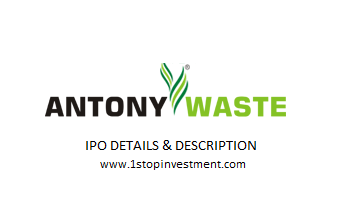 Antony Waste Handling Cell are one of the top five players in the Indian MSW management industry with an established track record of 17 years, providing full spectrum of MSW services which includes solid waste collection, transportation, processing and disposal services across the country, primarily catering to Indian municipalities.
They are among the select few who have pioneered in MSW collection and transportation sector. They are among the key players in landfill construction and management sector with in-house expertise for landfill construction along with its management. They are also present in the emerging waste management area in India which is MSW based WTE
IPO Dates ,Types & Price details
04-Mar-2020 to 16-Mar-2020
Listing on BSE & NSE
Rs. 206 Crore
Offer for Sale :5,700,000 Shares. Fresh Issue : 35 Crores
100% Book Building
Retail Portion : 35%
50 Shares and in multiples of 50.
Minimum Amount: Rs. 14,750 
Valuation of Antony Waste Cell:
Earnings Per Share (EPS): Rs. 12.35
Price/Earnings (PE ratio): 23.89 – 24.29
Return on Net Worth (RONW): 18.1%
Net Asset Value (NAV): Rs. 111.55 per share
Link Intime India Private Ltd
C 101, 247 Park, L.B.S.Marg,
Vikhroli (West), Mumbai – 400083
Phone: +91-22-4918 6270
Email: antony.ipo@linkintime.co.in
Website: http://www.linkintime.co.in
Equirus Capital Private Limited
Antony Waste Handling Cell Limited
1402 and 1404, 14th Floor,
Dev Corpora Building, Opp. Cadbury Company,
Eastern Express Highway, Thane – 400 601, Maharashtra.
Phone: +91 (22) 4100 9295
Email:investor.relations@antonyasia.com
Website: www.antony-waste.com
Subscription Details
Antony Waste Handling Cell Subscription Details
Category
No of Shares
offered
DAY 1
DAY 2
DAY 3
Qualified Institutional Buyers(QIBs)
1,377,288
0.00
0.00
0.89
Non Institutional Investors (NIIs)
1,032,966
0.12
0.12
0.26
Retail Individual Investors(RIIs)
2,410,254
0.12
0.25
0.38
Total
4,820,508
0.09
0.15
0.50
Source:NSE India
Post Subscription Details​
Transfer of shares to demat accounts
Please share the page with your friends if you like